The original Barcode Battler was a white console released exclusively in Japan in 1991. It featured a barcode scanner with which you could scan in either the cards that came with the console or a barcode from any product. The console decoded the numbers into statistics for either Heroes, Enemies or one of a number of types of Item. You then fought with these in either a campaign against the computer (COM mode), a series of fights against the Enemy cards (B1 mode) or a one-on-one multiplayer duel (B2 mode).
Following its success a
sequel
was released the
next year
.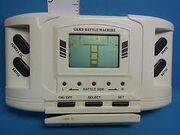 Ad blocker interference detected!
Wikia is a free-to-use site that makes money from advertising. We have a modified experience for viewers using ad blockers

Wikia is not accessible if you've made further modifications. Remove the custom ad blocker rule(s) and the page will load as expected.